Status Hat, Cities issue, Mar. 2011. Editor Meagan Dye included a special section titled "Destination Home" that featured Adele & Delbert R. Gardner. Though the journal is no longer online, the Gardner content is available here, and there's a brief post about it on the Status Hat Productions Facebook page: Poetry Moment: Destination Home, Mar. 9, 2011.
"Scenes in an Airport" by Delbert R. Gardner

"Refreshment from Beyond the City's Grasp" by Adele Gardner

"Destination Home," with editor Meagan Dye's introduction to the Status Hat Cities issue, featured Adele & her father, their two poems, and a personal statement in "Editor's Note Regarding Gardner Poetry."
Please note that I am only reproducing the content from the Status Hat issue that was actually written by Delbert R. Gardner and Adele Gardner (under her then-byline, Lyn C. A. Gardner).
---
From the page titled "Editor's Note Regarding Gardner Poetry"
"Some of my first memories of my father include his excitement as he'd read us a poem or story he'd just completed on his big, black manual typewriter in the little study that would later become my brothers' bedroom. My father's enthusiasm for reading and writing taught me to love and appreciate literature and the creative arts. I knew from the time I was four that I wanted to be a writer like my father, and he encouraged me at every age, providing advice that suited my development and interests, practical training in the submission process, constructive criticism and the ability to respond to it, and most important of all, an appreciative audience. On many occasions, we would sit together to write, sharing a smile or craft-related conversation across the table.
"We both shared a love of the small villages of upstate New York where I spent my early years; but Dad also appreciated larger cities, particularly for their cultural opportunities. He loved hearing live jazz and attending literary events, museums, theater performances, and baseball games. While I shared his love of live music and baseball, it took many years to get over my longing for upstate New York. Dad had the knack of feeling at home everywhere, perhaps in part because he could so readily sympathize with and see the points of view of people in different walks of life—many of which he'd experienced himself. For my part, while I always took joy in living near my family, it wasn't until recently that I embraced Dad's attitude and realized what a great place he'd discovered." – Lyn Gardner
---
From the page titled "DESTINATION HOME: Poetry by Lyn Gardner and Delbert R. Gardner"
REFRESHMENT FROM BEYOND THE CITY'S GRASP
By Lyn C. A. Gardner
Cool and frosty--
Like a glint of ice
Or a long, windy, cradle night
In the home of my childhood;
Like a breath of cool, mystically-chilling air--
A breath of delicious winter,
Or the desert's night-beauty;
A draught from a cool, wine-sweet stream;
Oh, like a still, unuttered sigh:
High above and far away,
Sending a cold,
Darting, magical glance
Through the panes of my windows,
Out of reach of the city's artificial glow,
Shines the full moon,
And on my floor, up along one wall--
Pure moonlight!
First published in print in Bellowing Ark, Vol. 24, No. 2, March/April 2008
---
SCENES IN AN AIRPORT
by Delbert R. Gardner
Beneath ground level in Atlanta,
Travelers intent on changing planes
Converge upon the subway.
The automatic car doors open,
And speakers blurt metallic monotone:
"Please enter the car
And stand away from the doors.
The next stop is Concourse C,
Colored blue on the subway map.
The car is about to start;
Please hang on."
The travelers jostle through the doors
In childlike trust that, though there is
No pilot, this conveyance still
Is guided by intelligence.
In the tunnel outside the car,
Another robotic voice blares out:
"Warning: Do not enter!
The doors are about to close."
The electric car jerks into motion,
Picks up speed till walls are a blur
Of yellow which turns to blue in seconds.
The metallic monotone warns:
"The car is approaching the station.
Please hang on."
The car's decrease in speed
Is drastic, like the starting up.
Forward sway the passengers
Till the car comes grinding to a stop;
Then they sway back again, like tuning forks.
"This is Concourse C, code blue,"
Intones the recorded voice.
Passengers depart the car
And hustle to the escalator.
Going upward in a crowd
On automatic stairs,
I pass a tide of people coming down,
Their hands on the rail but inches from mine.
Random faces momentarily
Impinge upon my consciousness;
My face no doubt is also quickly sponged
From their tabula rasa.
Memory of sidewalks in Manhattan
Teeming with weekend shoppers--
Was that pursuit apace with this?
No, the impression here is different:
Those shoppers all had a similar purpose,
But these travelers, though they all
Share the object of moving through space,
Have many diverse reasons for wanting
To occupy the space they'll reach.
The flight attendant's parting words,
Heard on the airplane's intercom,
Come back to mind:
"If this is your final destination,
Thank you for flying Delta,
And have a nice day!"
No, it's not the final destination,
I would guess, for any of us,
Even if some travelers stop here.
Our airline tickets are for many
Different cities, including this one.
But each of us has a further aim,
I think, than reaching a certain city--
Though someone in that city may
Seem to represent the goal,
Or be a means to help us reach it.
The youth in the orange tee-shirt
Aims to be a football star.
The attractive blonde in business suit
Has designs on an executive chair.
The uniformed soldier wants to find
A girl who'll make him feel a hero.
The boy of nine, between his parents,
Plans to explore his grandparents' farm
And scare off space invaders.
The teen-age girl in blue-striped blouse,
Going to visit her father, is scheming
How to get her parents together.
The mother who steered her grown son's wheelchair
Down the moving sidewalk
Dreams he will rise and make
His way in the world.
And I?
I want more time with my wife,
Time with my family,
Time to write--
And something worthwhile to say.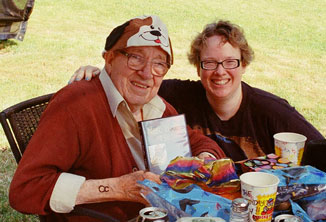 Above: Delbert R. Gardner and Adele Gardner. Photo by Marc Nucup, from the collection of Adele Gardner.
---
From the Status Hat biography page titled "Lyn Gardner; Delbert Gardner"
A veteran of World War II, Delbert R. Gardner (1923-2008) taught college English for twenty-one years, and variously served as writer/editor for U.S. Army training materials; usher in a 1940s movie palace; fireman on a locomotive; pinsetter at a bowling alley; salesman of pianos, vacuum cleaners, and insurance; cab driver; and journalist. Over forty of his poems and stories have appeared in The Literary Review, Poetry Digest, American Poetry Magazine and more. An aficionado of the Pre-Raphaelites, Dr. Gardner wrote the book An "Idle Singer" and His Audience: A Study of William Morris's Poetic Reputation in England, 1858-1900.
Catalog librarian by day, Lyn C. A. Gardner coedits the journal Virginia Libraries. She's served as editor at a maritime museum and had stories, poems, art, and articles published in American Arts Quarterly, The Cape Rock, City Primeval, Challenging Destiny, and The Leading Edge, among others. Though she misses the Finger Lakes region of upstate New York, Gardner is pleased to make her home in Tidewater, Virginia, where she is blessed to be near her close-knit family--and almost always has a view of the water.