DELBERT R. GARDNER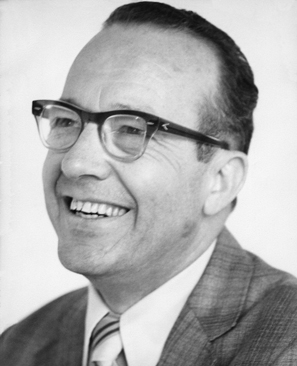 Photo of Delbert R. Gardner created by Daniel M. Hegarty Sr. Copyright (c) held by the Gardner family. All rights reserved.

NEWPORT NEWS--Delbert R. Gardner, 85, devoted husband, father, and grandfather, and child of God, departed this life on Sept. 21, 2008, to be with his Savior.
Born in Wooster, OH, in 1923, Delbert served his country in World War II as a member of the U.S. Eighth Air Force, 790th Bomb Squadron, 467th Bomb Group (Heavy) from 1941-45. He put the G.I. Bill to good use, earning his AB and MA in English from Syracuse U., followed by a PhD in English from the U. of Rochester.
Del enjoyed recounting stories from his many jobs: usher in a 40s movie palace; fireman on a locomotive; pinsetter at a bowling alley; salesman of pianos, vacuum cleaners, and insurance; cab driver; and journalist. After achieving the first college degree in his family, he took pride in teaching college English for 21 years: at Syracuse U., Lycoming College, and Keuka College in his beloved Finger Lakes region of upstate NY.
Del then turned his creative talents to writing, editing, and developing educational materials and training literature for the U.S. Army, earning the civil service rank of GS-11 as a writer-editor/training specialist. He served in this capacity at both Ft. Knox and Ft. Eustis for 14 years and merited a number of Sustained Superior Performance Awards.
Inheriting a love and talent for poetry from his father, Harry Calvin Gardner, Dr. Gardner had more than 30 poems and stories published in periodicals such as The Literary Review, Poetry Digest, and Christian Science Monitor, among many others. Along with nonfiction articles, he had a scholarly book published, An "Idle Singer" and His Audience: A Study of William Morris's Poetic Reputation in England, 1858-1900. Other works are forthcoming; visit www.gardnercastle.com.
Del loved his family dearly. In many ways, this love has been the central theme of his life. In addition to his father, Harry, he was deeply attached to his mother, Effie Jury; his brothers, Norman and Donald; his sister, Ruth; and his stepfather, Frank Peterson. His 1968 marriage to Marilyn Elaine Hegarty, a graduate of Keuka, was a match made in heaven, a sentiment that he expressed every day and in numerous ways--including poems and stories. This love has infused the lives of all the members of his close-knit family, with whom he always shared comfort and strength, as well as his passion for literature, art, and music. Del's great love for his family--and his love of life itself--are strongly felt and will be carried on by all who survive him, including his wife, Marilyn; his children, Carolyn, Theodore, Daniel, and Melody; six grandchildren; and many family members and friends.
In lieu of flowers, the family requests that donations be made in memory of Dr. Gardner to a scholarship fund for his grandchildren. Contributions may be sent to the Gardner family.
The funeral service will be at Weymouth Funeral Home, N.N., 7 p.m., Thurs., Sept. 25, with visitation following. Interment will be in Elmira, NY, Sat., Sept. 27.